Soil and Water Conservation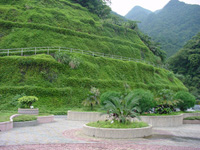 Soil and Water Conservation :

Soil and water conservation is our first priority in reservoir management. Landslide treatments and roadside slopes are the two major tasks we are working on. For example, the vegetative cover is restored  for the surface by planting grass or other appropriate means, while making improvements in the drainage conditions of the roadside slopes are also being made.
Forestation :

The national forest land in the catchment is mostly water protection forests. With the implementation of a multi-years program for forest cultural practice and replanting, 1,169 hectares of forest has been created playing an important part in achieving the goal of better soil and water conservation.